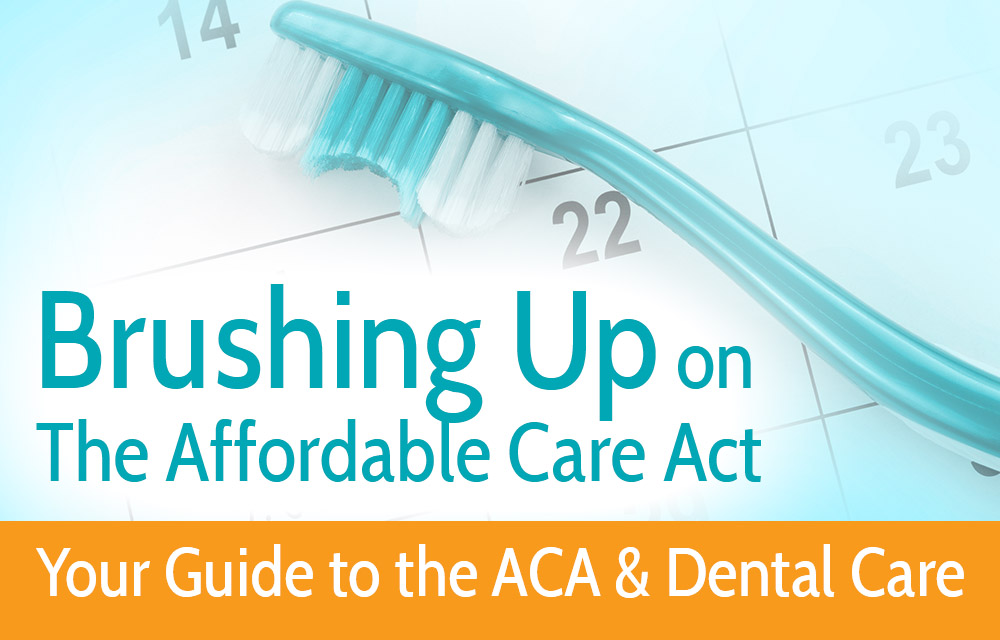 ACA Dental Insurance 2022
If you're confused about dental insurance as it pertains to the Affordable Health Care Act—also known as the ACA, Obamacare, heathcare.gov, or the insurance Marketplace - you've come to the right place. DentalPlans.com is your one-stop resource for all things dental, from our savings plans that help you save money on dental care and other needs, to providing the information that you need to make the best choices about your and your family's dental health.
ACA Open Enrollment For 2022 Coverage
Open Enrollment begins November 1, 2021: starting on Friday, November 1, you can enroll or change your ACA insurance coverage for 2022. Your coverage begins Jan. 1, 2019.
Open enrollment in most of the U.S. is slated to end December 15, 2021. That may change, the Biden administration has proposed an extension through January 15, 2022. If the extension is passed, enrollees would still have to apply by December 15 in order to have coverage effective January 1; applications submitted between December 16 and January 15 would take effect February 1.
Also, permanent extended deadlines are already in place for California, Colorado and the District of Columbia, currently you can apply for coverage through Jan. 31 in those locations. And if you purchase your Obamacare plan from a state-run market (as opposed to the federal marketplace. healthcare.gov), your state may have extended enrollment period. The extended dates for state markets are set each year. States with extended open enrollment include. Check your state marketplace for details.
ACA Coverage: What's new for 2022:
The American Rescue Plan Act included several provisions to make Obamacare plans more affordable and easier to access for almost everyone. Most of these changes may not be permanent, but you can enjoy cost savings on your coverage until the end of 2022. The changes include:
Lower maximum out-of-pocket costs by $400, consumers will pay less out-of-pocket for their covered healthcare.
Temporary elimination of the income cap for premium subsidies. In previous years, subsidies weren't available for people making over 400% of the federal poverty level. . For coverage in 2022 and 2023, regardless of income – no one will have to pay more than 8.5 percent of their household income for the benchmark plan (the second-lowest-cost Silver plan available in the exchange in a given area).
Enhanced premium subsidies for marketplace buyers who are already eligible for subsidies. Premium subsidy enhancements will be retroactive to the start of 2021.
Increased opportunities to qualify for future special enrollment periods, to offer greater flexibility for those who need coverage the most such as lower income people, or those impacted by COVID-19 and other disasters.
Easier comparison shopping for plans, as well as improved support for the Federal Health Insurance Marketplaces, health insurance issuers, and others who provide access to coverage.
Need Dental Insurance?
Very little has changed regarding the notable lack of dental insurance coverage options for adults under Obamacare. You may be able to find sensibly-priced coverage for your children if you are also purchasing health insurance from the federal or state markets (you cannot purchase dental insurance alone through the ACA, it needs to be added to a healthcare plan).
ACA dental options are fewer and far more expensive for adults – with unsubsidized rates for dental insurance costing hundreds per month. While cost of coverage can be reduced with subsidies, it makes sense to explore other options for reducing dental costs – traditional dental insurance or a dental savings plan.
Traditional dental insurance plans help you fit the cost of expensive dental treatments into your budget. Most dental insurance plans cover 100% of the cost of preventive care such as cleanings, checkups and x-rays, 80% of basic treatments such as fillings, and 50% of more complex procedures such as root canals and crowns. Coverage begins after you have met your deductible – which is typically $50-$150 annually.
When you purchase a dental insurance plan, you'll likely choose between dental HMO or PPO plans.
Dental PPO plans allow you to get care from any dentist or dental specialist – though you'll save more on your care if you stay in-network. And while you'll usually be able to see a dentist whenever you want with a PPO plan, as a new plan member you're likely to have to wait for months before your plan provides coverage for more expensive treatments such as bridges and crowns.
Dental HMO insurance plans require members to stay within network for treatment. All referrals to dental specialists must be provided by the primary dentist. While there is often no waiting period imposed before coverage kicks in, an HMO plan may limit the number of times that you can see a dentist annually.
PPO premiums – the price you pay for your insurance - tend to be higher than those for HMO plans. But no matter which type of plan you choose, there will be a low annual coverage limit. Virtually all dental insurance plans cap coverage at $1,200-$1,500 annually.
Reduce Dental Costs with Dental Savings Plans
Dental savings plans are an affordable alternative to traditional dental insurance. Plan members save 10%-60% on dental care costs. And dental savings plans do not have spending caps, exclusions for pre-existing conditions, or waiting periods associated with insurance.
You can start saving on your dental care fast with a dental savings plan - plans activate within 72 hours, and some can be used within just 24 hours of joining.
And if you're struggling to meet out-of-pocket insurance costs, you'll be happy to know that many of the plans offered by DentalPlans.com also include savings on general healthcare needs, including vision and hearing services, prescriptions, chiropractic, and more.
Ready to start saving on your dental care?  Call us at 1-888-632-5353 to determine which dental savings plan best meets your needs, or use the dentalplans.com search tool to find and join your plan.